BEFORE YOU READ ANY FURTHER, PLEASE WATCH THIS SHORT VIDEO.
IT IS NOT AN AD.

(Watch Manchin's entire speech unedited and in full-motion by clicking this link)
Despite his own admission of culpability, apparently no one is willing to investigate former governor Joe Manchin, or even reveal his apparent conflict of interest by being a coal broker at the time.
Not even the UMW. And certainly not anyone in the state's clique of corporate-owned media.
By its very title, the United Mine Worker's recent report on the explosion at Upper Big Branch ("UBB") boldly asserts that the deaths of the 29 miners was "Industrial Homicide". Though in most respects it mirrors an earlier report generated by a team of investigators assigned by the governor, unfortunately the UMW didn't even come close to nailing the root cause, which was apparently governor Manchin himself.
There is undeniable evidence that both investigations fell far short by not addressing the dangerous situation set up by Manchin's own publicly stated lethal policy, which he dubbed 'Retail Government'. It is hard to ignore that just two years prior to the UBB homicides and only two years after the Sago mine explosion killed 12, Manchin was caught on tape directly admitting to having implemented a policy so lethal that his administration is now responsible for far more U.S. mining deaths than any other since the Coal Mine Safety and Health Act of 1969 was made law.
For the record, that Act was legislated as a direct response to the violent mine explosion on November 20, 1968 near Farmington, WV.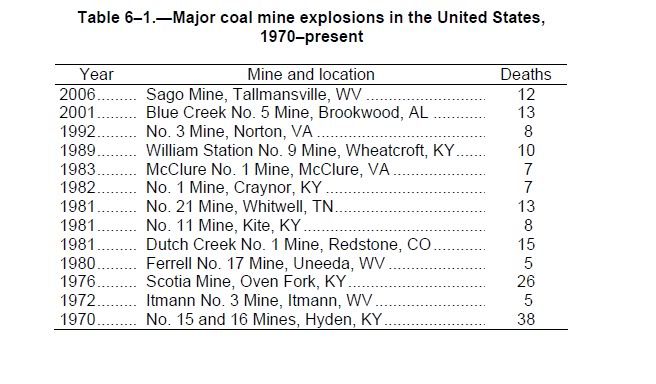 note: The above chartsource (pdf file) was obviously published prior to the UBB homicides
Former Massey CEO Don Blankenship and former WV Governor Joe
Manchin both want all to believe that the UBB explosion was accidental, that mining coal underground is necessarily deadly, and that all miners are paid well enough that they knowingly choose to overlook that risk. The fact is that none of those statements are true. Since WV's own Ken Hechler fought to pass the 1969 Coal Mine Health and Safety Act, as long as the requirement for airflow through the mines is strictly enforced, there can be no possibility for the buildup of explosive gasses. The safety record of mining after 1969 reflects that prior to Manchin's taking WV's highest office, the number of fatalities from deep mine explosions were virtually eliminated. Yet in a very subtle but powerful way, former governor Manchin inferred that the deaths at Upper Big Branch were simply meant to be when he publicly announced his disappointment that God didn't answer his prayers and rescue those trapped miners.
STATE SPONSORED Industrial Homicide
Although it was well within their mandate, both the Governor's Special Investigative Task Force and UMW investigators failed to reveal the shocking fact that then-governor Joe Manchin had told his safety regulators to not shut down underground coal mines whenever they saw a pattern of safety violations.
Incredibly, Manchin was caught on video bragging about it whilst pandering to his coal operator pals at the annual Coal Symposium back in 2008. Both the audio portions and the screen captures from that event at this youtube link.
If you have a dial-up modem like so many across our rural state, youtube all but locks your modem up. So here's the breakdown of the salient portions of what Manchin actually said. Remember, now, Manchin admitted to his deadly governing philosophy while as governor he addressed the West Virginia Coal Association in 2008 at its annual Coal Symposium.
After introducing Senator Rockefeller (who sat next to him on the dais), after recognizing his EPA regulators who were also there, Manchin went on to introduce both the Director and co chair of the WV Office of Miners' Health, Safety and Training. Since it is they who are charged with the responsibility for the oversight of the field agents who should have shut UBB down, considering what he publicly admitted with them in the room, in retrospect it now seems more like he was trotting out his own personal team of show ponies instead of introducing the prime administrators of our state's safety and health administrations.
Manchin's exact words were:
"Hey John, you've got a problem here, now before I write you up with a violation, here's what I think you ought to do to fix it."
The governor wasn't simply telling the Coal Owners Association that he wanted his people to instruct coal operators about how to deal with the problem, he was admitting to having instructed them to not report safety violations and to not shut the mines down. He made that perfectly clear as he went on to explain:
"Let's get together, get our people together. I'll come back in a week or a month or whatever the rotation time would be. Then if you've made those changes, tried to make the changes, we're working in the right direction. Rather than going out with a ball bat and a cease and desist order and fines, I'd rather you spend the money to fix what's wrong, try to make it safer, than give the money to government. I guarantee you we won't fix it."
To allay any doubt that portions of his speech were taken out of context just to make Manchin look bad, the astounding 21 minute full motion video of our former governor's bizarre notion is available to view for free at this link.
To confirm that Manchin's mine safety field agents weren't both blind and stupid, Manchin's own UBB Independent Investigation Panel produced a report that actually all but indicted the Manchin administration for its complicity.
In a chapter called "The Normalization of Deviance", investigator Davitt McAteer, who was former head of MSHA under the Clinton administration surmised:
"Such total and catastrophic systemic failures can only be explained in the context of a culture in which wrongdoing became acceptable, where deviation became the norm. In such a culture it was acceptable to mine coal with insufficient air; with buildups of coal dust; with inadequate rock dust."
How could this situation have developed into the "norm" unless mine regulators were either bribed by Massey or else instructed by their superiors to ignore what McAteer described as an entire culture of danger?
Stopping just short of naming names, McAteer's team pointedly explained,
"It is only in the context of a culture bent on production at the expense of safety that these obvious deviations from decades of known safety practices makes sense."
In other words, by undercutting the mandate of entire agencies that had been upheld for decades, the implementation of Manchin's Retail Government fostered a culture that very likely resulted in state-sponsored mass murder.
This isn't just my own rhetoric, it's simply a restatement of what McAteer's team put bluntly:
"the inability of the state of West Virginia to protect the lives of miners "is also a political failure – a failure by the state's government to nurture and support strict safety standards for coal miners.
"If miners' lives are to be safeguarded, the cozy relationship between high-ranking government officials and the coal industry must change, as must the relationship between the enforcement agency and the industry it regulates,"
UMW investigators prefer to call the mass murder of those miners 'Industrial Homicide', but call it what you will, unlike McAteer's report, the UMW completely ignored former governor Manchin's culpability.
How could the UMW have overlooked what appears to be the root cause?
It is notable that the UMW endorsed Manchin for his senate race in 2010 and during his gubernatorial campaign in 2004, making it obvious how the UMW has long appreciated his promotion of the coal industry in general. Could that have been why the UMW didn't go even as far as the governor's own task force to reveal the deadly role that Manchin's policy played?
It was much pretty much a foregone conclusion that the Governor's own task force would never directly address Manchin's deadly role. Whether or not the UMW conspired to cover up for the fact that the Governor had practically indicted himself at the 2008 Coal Symposium, at the very least the union's lack of due diligence on behalf of the miners families has worked out pretty well for Joe Manchin, politically speaking.
At the UMW press release of its UBB report Oct. 25, 2011, in Charleston, WV, I tried my level best to blow the lid off this scandal, but apparently none of the other journalists attending the press conference wanted to hear what I directly and clearly stated because none of their followup questions, or subsequent news coverage even came close to mentioning Manchin's not-so-spontaneous admission of guilt.
Knowing just how tone deaf the corporate press is when it comes to protecting Big Coal's favorite politician, I recorded my question, along with Cecil Roberts' sidelong (but startling) admission that his team of crack UMW investigators didn't even consider Manchin's complicity in state-sponsored industrial homicide.
Perhaps just as shocking as Roberts' admission is the fact that although journalist Ken Ward sat right down the row from me when I told Roberts "What you called 'Industrial Homicide' Joe Manchin calls 'Retail Government'", thus far Ward has apparently still refused to revisit Manchin's role.
There is the possibility that neither the Charleston Gazette nor the UMW demanded an investigation into Manchin's role, because Mr. Ward had buried the lead so deeply in this single Gazette report of Manchin's atrocity. It is beyond curious that the Gazette journalist failed to revisit Manchin's deadly policy when his employer endorsed Manchin for U.S. Senate just a short time later.
Now, incredibly, instead of calling for Manchin's investigation, the entire panoply of corporate media across the state continues to completely ignore his culpability in the worst mass industrial homicide of mine workers since his own uncle was killed in the Farmington blast back in 1968. Coincidentally, our former governor was about 21 years old when that explosion literally rocked his own hometown and killed 78 mine workers.
Considering Manchin's Retail Government policy, it is no slight coincidence that while he served as governor, there were more fatalities from deep mine explosions than all the other WV governors who served office since Farmington. Nor should it be ascribed to mere coincidence that prior the mass manslaughter of 29 men at Upper Big Branch, Manchin was also West Virginia's chief executive when the 12 men killed at Sago were widely recognized as the most deaths in any single U.S. mine explosion since Farmington. That Manchin's "Retail Government" policy was responsible for more WV mine explosion fatalities than any other prior to the Mining Safety and Health Act of 1969 was made fairly obvious in Davitt McAteer's report on the explosion at Upper Big Branch, although for whatever reason, the media never quite got around to connecting McAteer's dots.
Investigator Davitt McAteer's statement that there was a "culture" of danger is certainly an alarming charge. But were the violations at UBB egregious enough to connect the blame all the way to Manchin, or were his field agents simply choosing on their own to not shut that mine down?
According to federal records the history of serious violations at UBB were five times more extensive than the national average. During the year before the explosion, that Raleigh County WV mine was cited by MSHA for 458 safety violations, with 50 of them listed as "unwarrantable failures to comply". It is notable that under federal mining regulations those classified as "unwarrantable failures to comply" are citations reserved for instances of willful and/ or gross negligence.
So why in the name of all that is sane didn't Manchin's mine inspectors shut that mine down? NO ONE HAS EVER ASKED THEM!
IT is highly unlikely that these public servants casually chose to follow Joe Manchin's Retail Government policy when nationwide, an average of only 2 percent of safety violations are considered to be unwarrantable failures. By comparison, over 10 percent of Upper Big Branch mine's violations were unwarrantable failures in the year prior to the explosion.
Given what we now know (and what the Governor knew at the time), is it any wonder that within ten days after the explosion Manchin requested the shutdown of WV's more than 200 underground coal mines? His executive order to "his people" to begin checking those that repeatedly had been listed as having had combustion risks over the last year not only appears to have been an emergency rescission of his "Retail Government" policy, it appears to be a fairly direct indication of guilt!
Nine days after that mine blew up, Manchin issued an executive order that in appearance only tightened West Virginia's requirements for mine operators to control explosive coal dust in underground mines. Considering that they should have been in compliance all along, he reportedly ordered coal operators to use more crushed stone to keep down the dust to signal tothemthat he was now (finally) directing his inspectors to step up efforts aimed at preventing mine explosions. However, in retrospect Manchin's deadly "Retail Government" policy appears to have remained in effect, because to his credit, Ken "Coal Tattoo" Ward discovered that five months after his executive order for rock dusting, the state still hadn't responded.
When issuing his executive order, Manchin actually admitted to the press that "his people" would
"…start with the mines that have been cited repeatedly for these combustion risks during the last year, and take immediate steps to ensure compliance with the law,"
Ken Ward discovered that after five months had passed, no rock dust samples had been taken by the governor's "people". Ward reported that:
"…in the five months since Manchin's order, inspectors from the state Office of Miners Health, Safety and Training haven't cited a single mine for violating the new "rock-dusting" standards the governor instituted."
Ward also found that
"In the weeks after the Upper Big Branch Mine Disaster, there was talk from the governor's office about calling a special session to pass more mine safety legislation. Safety advocates gave the governor proposals to, among other things, toughen the ability of state inspectors to hold corporate officers accountable for violations. But so far, Manchin has not introduced any new legislation and the idea of a special session on mine safety has been dropped."
The UMW report on UBB never even bothered to note the fact that Manchin and his coal-powered legislature chose to punt on new legislation. But the simple fact is that those deaths would have been avoided had mine safety inspectors simply done the job under existing regulations!
McAteer's team had already concluded:
Ultimately, 29 miners lost their lives in the Upper Big Branch mine because these safety systems failed in a major way. Massey Energy failed to maintain an adequate ventilation system at Upper Big Branch. The company failed to maintain its equipment. It failed to properly rock dust the mine. If those basic matters of safety are effectively practiced, there is no reason for miners to die as a result of explosions in 21st Century America.
During his campaign to fill senator Byrd's congressional position Manchin publicly and repeatedly pledged to pass stronger mine safety regulations. Yet since being sworn in as junior U.S senator, not much at all has changed.
When considered alongside Manchin's official hardline stance against the EPA's effort to protect our communities from being poisoned by a slower, more pernicious form of industrial homicide, and his recent reaffirmation of confidence in the WVDEP during his recent Marcellus Shale dog and pony show, it has now become quite apparent that Manchin's gubernatorial successor has decided to inflict his own version of the deadly "Retail Government" policy upon us.
While pandering to the gas industry during his "special hearing" on the Marcellus, Manchin forgot how his WVDEP let Massey and other coal companies poison the water wells with coal slurry injection in the communities of Prenter, Seth, Merrimac, Sprigg and Rawl. And his gubernatorial successor, Earl Ray Tomblin, now apparently has no problem placing fossil fuel industry profits over the health, safety, and welfare of the people of West Virginia.
How many more Appalachians have to die before the survivors finally wake up and elect ONLY leaders who will protect us instead of sacrificing our workers and our entire communities to satisfy their own avarice?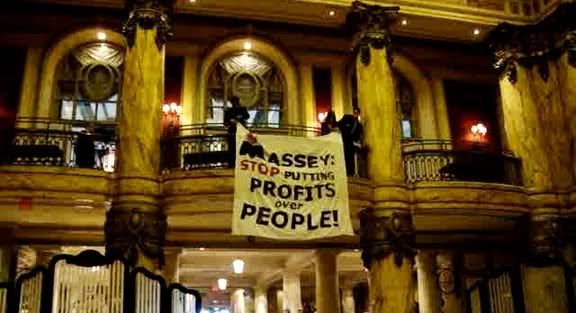 short link: