Occupy Charleston WV is looking forward celebrating in solidarity with the local AFL-CIO and the Kanawha Valley Central Labor Council, who sympathize with our message, "Resist austerity. Rebuild the economy. Reclaim our democracy."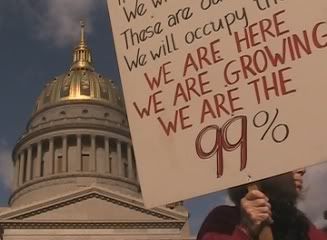 In solidarity with Occupy Wall Street and in response to a request from Occupy Charleston WV, local unions will join us today at 4:30 to help us celebrate our 2 month anniversary
Location:
501 Leon Sullivan Way – Unity Center
Charleston, WV 25301
Look for our Occupy Charleston Camp

permalink to uptheholler.com
ATTENTION: Monetary donations are now able to be accepted.
If you would like to contribute a few dollars then please go to this site: http://www.wvcaef.org/donate/index.html
Please make sure to clearly list that the donation is for the Occupy Charleston Occupiers in the purpose field on the paypal link…thanks!
If you are concerned how the money will be used, the General Assembly will be deciding how best to use it. Printing needs, and supplies for those on the occupation.
We are so lucky to have a local non-profit that was able to step up and help us with the donations…please give it up to Citizens Action Group.

Posted by Occupier
Oct 23 – OCWV