This was first published by One Citizen on Sept. 01, 2010 at 16:11:45 PM EDT
The WV STATE HISTORIC PRESERVATION OFFICE AUTHORIZED THIS PERMIT TO SURFACE MINE BLAIR MOUNTAIN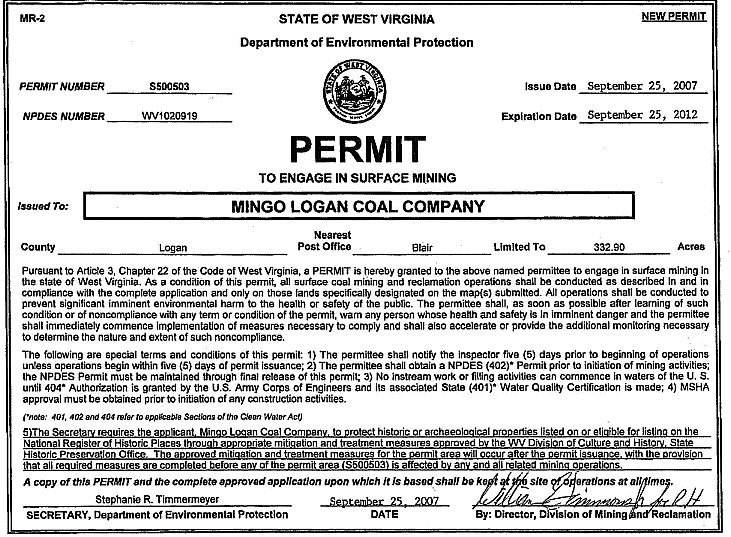 No, this is isn't a photo-shopped image, it is the real deal.
One Citizen :: Blair Mountain: WV State Historic Preservation Office Sacrifices National Monument for ATV Trail
As is this:



These two permits are in direct conflict with each other and the law as there is no possible way to maintain historical integrity for a battlefield and also change its contours. According to recent court decisions, it is probably illegal for both of these permits to exist simultaneously.
Yet they do.
To understand the exact points of conflict, first review item 5 on the original permit where it states:



The mining permit makes it seem like the battlefield resource is protected, doesn't it? The problem is that the variance permit below it grants permission for the surface mine operator to change the contours of the battlefield.
It is virtually impossible to "mitigate" changing the battlefield contours without forever ruining one of the most important and dynamic aspects of that historic resource. In other words, the permit to vary from the Approximate Original Contours essentially grants the surface mine operator the right to ruin Blair Battlefield's chances of ever being put on the National Register of Historic Parks as a true battlefield park memorial.
Our state-appointed coalocrats running the WV Division of Environmental Protection ("DEP") and the WV State Historic Preservation Office ("SHPO") have apparently decided on their own to sacrifice the Blair Mountain Battlefield for some ATV trails.
The only reason they haven't begun surface mining Blair Mountain yet is because it was nominated and listed, after unanimous vote on the National Register of Historic Places. But then it was taken back off due to the acceptance by the SHPO of a number of dead people objected to its being listed.
What shocks most folks is that the National Parks Service sent the list right back to the SHPO when it found out about the fraud and instructed them to correct it and resubmit …which they flatly refused to do!
Stay tuned for the second half of this report…